Top Tips On Filming A Nativity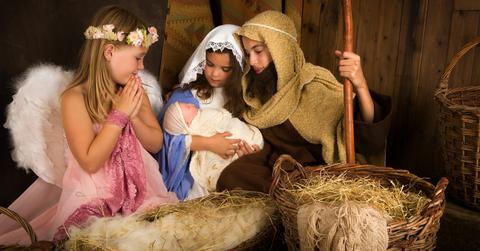 This Christmas will see many students and teachers taking part in their annual primary school Christmas nativity play or nativity story and performing it to a live audience. Filming the nativity is always popular with family members as it's a lovely keepsake and a way for anybody who missed the show to watch it at a later date! 
For many of the children, it may well be the first time that they have been filmed in a production. And, this being the case, the process of filming it perhaps needs a little more consideration and planning than it might otherwise: how to ensure everyone can be seen and heard, when to zoom in and when not to, when to pan the camera and when to keep it still.
For this reason, we have put together some handy tips on filming your festive school nativity play. Obviously, resources will vary from school to school, but even if you are filming on a smartphone or tablet, we hope that these guidelines will be both relevant and helpful.
Nativity Filming Tips
Tips on Cameras
Any camera is better than no camera, and most modern smartphones and tablets have good quality cameras that are easy to operate. DSLR (digital single-lens reflex) cameras with video mode or traditional camcorders are also great, just try and keep them steady in the hand or on a tripod/firm surface. If possible, aim to use three cameras (which can be operated by two people if a third isn't available).
Camera 1
A locked-off (fixed position that doesn't move on a tripod or firm surface), wide shot of the whole scene - this is the safety camera that ensures you never miss any of the great action and doesn't require an operator throughout the nativity (but it's always safer to have one).
Camera 2
A handheld, mid-shot camera that follows the action with a closer frame and more detail than the wide shot on camera one. This camera position can be free to roam as the nativity progresses. Perfect for catching the younger ones who may forget to face the audience!
Camera 3 
A close-up camera on a longer or zoom lens can capture the detail of the action. Try and capture at least one close-up of every child. 
Top Tip: Use this camera in the dress rehearsal, if possible, to maximise the shooting opportunity.
GoPro Camera 
If you have a GoPro camera, it doesn't harm to position this up high, slightly off centre, looking at the whole scene. Or, you could position it down low in the front and centre of the scene. It's another alternative to camera one that can be used as a safety or bring more variety to the edit.
Camera Placement 
Try to ensure the camera operators know the running order for the nativity as well as possible. This will enable them to plan their movement and know where the camera should be pointing at each part.
Plan the camera positions and get a feel for where the best placement is well before the nativity starts, not during. To ensure you have covered all bases in your preparations, take a look at our ultimate guide for staging a school musical.
Tips on Lighting
It's always best to light the scene from the front, not from behind. You should avoid positioning the scene in front of large windows or light sources as this can create silhouettes that make it hard for the camera to see children's faces, costumes and set decorations. 
If you're concerned about lighting, it may be best to opt for a nativity with simple set decorations, such as our wonderfully festive mini nativity 'An Angel, A Star, And A Stable'. As all the action will remain in one place, only simple lighting is required -even a few well-directed and stable desk lights can do the trick!
Tips on Sound
To avoid missing any of those magical lines, try to record sound as close as possible to the scene with either a microphone or an extra camera/camera phone. The visuals from this camera aren't important, it's just being used to record sound that can then be added to the footage from the other main cameras in the edit. 
Try and position it just in front of the scene in a central position, raised slightly off the ground (but out of the way of those excited performers!). Opting for a nativity that allows for further projection of the children's voices, such as Niki Davies's fabulously musical 'Boogie Woogie Nativity', is a great idea to ensure the action is loud enough that non is missed! Alternatively, it may be a good idea to position those slightly softer-spoken children closer to the microphone or camera (whichever you have chosen to capture the sound).
Nativity Editing Tips
The best way to create the final film is to use editing software. Once known as a 'dark art' of tv and film professionals (and often very expensive), home editing software is now readily available and easy to use! This enables you to use multiple cameras and create a much more engaging film. For Mac users, iMovie is a good option for beginners or Adobe Premier Pro for those with more experience and who are relatively tech-savvy. For Windows users, Lightworks and Shotcut offer excellent, free software. Try not to jump around too much with the editing – remember, parents will be watching this to see their children, they already know the story!
Bonus Tip: Credits
Including credits is a fantastic way to make sure all those who have been involved feel valued, and what child (or adult) doesn't gleam at the sight of their own name? These can be typed in the edit and will make for an extra special keepsake. 
Tips on The Legal Stuff
Don't forget that if you are planning on performing your nativity to a live audience outside of the staff and children within the school, you will need a performance license. And, as you are equipped to tackle filming the children's wonderful nativity performance, you will need a filming/streaming license. If you are unsure or want more information on licensing for your school nativity, take a look at our guide to copyright and licensing. This also includes the use of our fun and entertaining Christmas assembly songs if you are hoping to bring some more festive cheer in the run-up to the big day!
Now that you are armed with all the knowledge on how to film your nativity production, whether that's for a smaller nativity play for early years, KS1 students or KS2 students you can rest assured that our tips will land you in good stead to produce something truly magical! 
Are you still unsure which nativity is best suited for your school? Take inspiration from our list of 15 brilliant school nativity ideas or get in touch with us today and we would be more than happy to help!